We know buying a home can seem overwhelming without the right knowledge and tools.
We know buyers wonder:
** "How do I get a mortgage?"
** "What can I afford?'"
** "How much money will I need?"
** "What will my payment be?"
We have the answers to your questions.
LESLIE BERGEN - BRANCH MANAGER OF CORNERSTONE HOME LENDING.
Branch Manager Leslie Bergen began her career in the residential lending industry in 1984, and has been originating loans as well as leading and training successful teams ever since. She most enjoys the service aspect of the business because it allows her to help her clients make the best financial decisions for their individual needs. She takes pride in the relationships she develops with her customers, and she makes it a priority to give each client the personal attention they deserve.
To experience first-class service from a trustworthy and reliable mortgage professional, contact Leslie Bergen at 915-317-1988 or lbergen@houseloan.com You can also visit her websit at www.LeslieBergenLoans.com to prequalify and experience te Cornerstone Difference!
Ready to prequalify? Apply online or call her! She can answer all your questions and assist you with the right loan.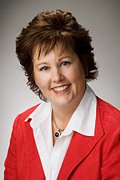 Leslie Bergen
Cornerston Home Lending, Inc.
Branch Manager / NMLS 383352
Direct: 915-317-1988
Cell: 915-479-5626
eFax: 866-230-2542
lbergen@houseloan.com
www.LeslieBergenLoans.com
If you go to Leslie's website, there are several mortgage calculators available for you.